Responsibility & community is at the heart of who we are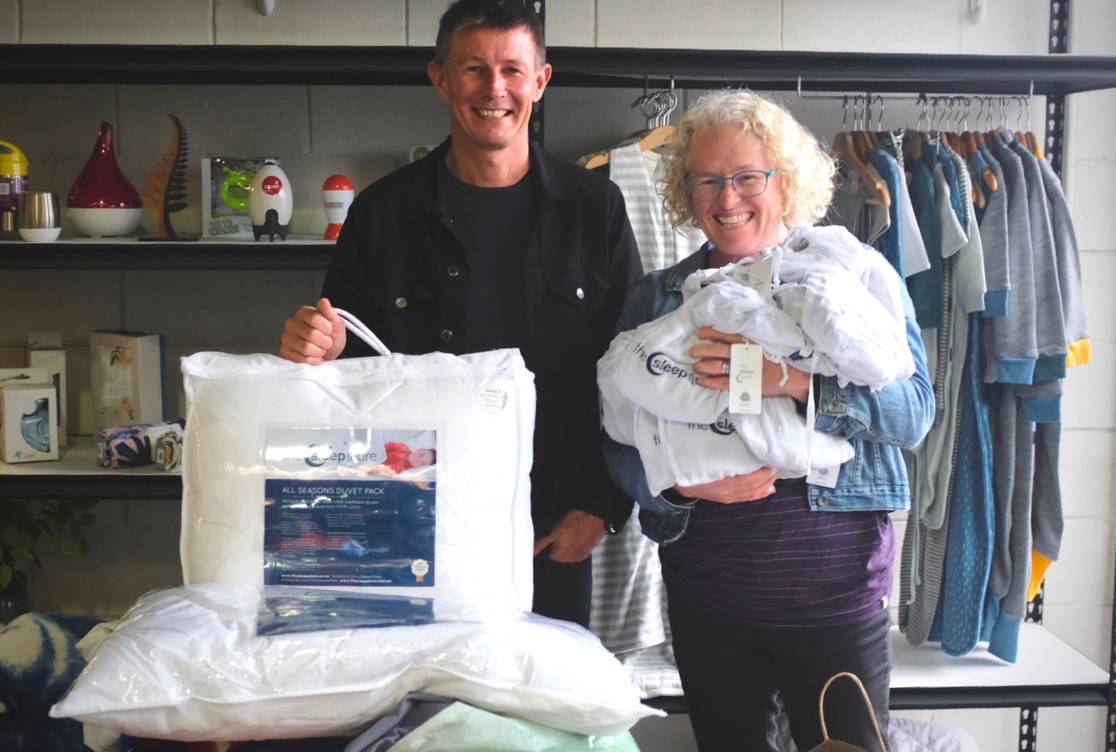 The Sleep Store Code of Conduct
Introduction
We are a values based, family-owned business with a long history of supporting both the community and the environment. Values such as 'Ethical' and 'Sustainable Communities' are at the heart of all our decision making, our customer service, manufacturing and day to day processes.
The Sleep Store is committed to making positive economic, social and environmental contributions to society, consistent with the principles of honesty, integrity, fairness and respect and especially in regard to sustainability and protection of the environment.
Our directors have adopted this Code to provide a set of guiding principles to be observed by all THE SLEEP STORE personnel and our supply chain, and against which we hold ourselves accountable.
Our principles
We expect all members of our team to act consistently at all times within the following principles:
Act with honesty, integrity and fairness in both our internal and external relationships and be accountable for our decisions.
Engage professionally and honestly in all our business relationships.
Respect and support each other and those we interact with outside our organisation, value diversity and strive to achieve shared success in achievement of our goals.
Provide a safe working environment internally and throughout our supply chain.
Seek to make positive and sustainable economic, social and environmental contributions to the communities in which we operate.
Respect and maintain privacy and confidentiality of information and accuracy of business records.
Take pride in what we do and the reputation we have earned for seeking innovation and improvement throughout our business.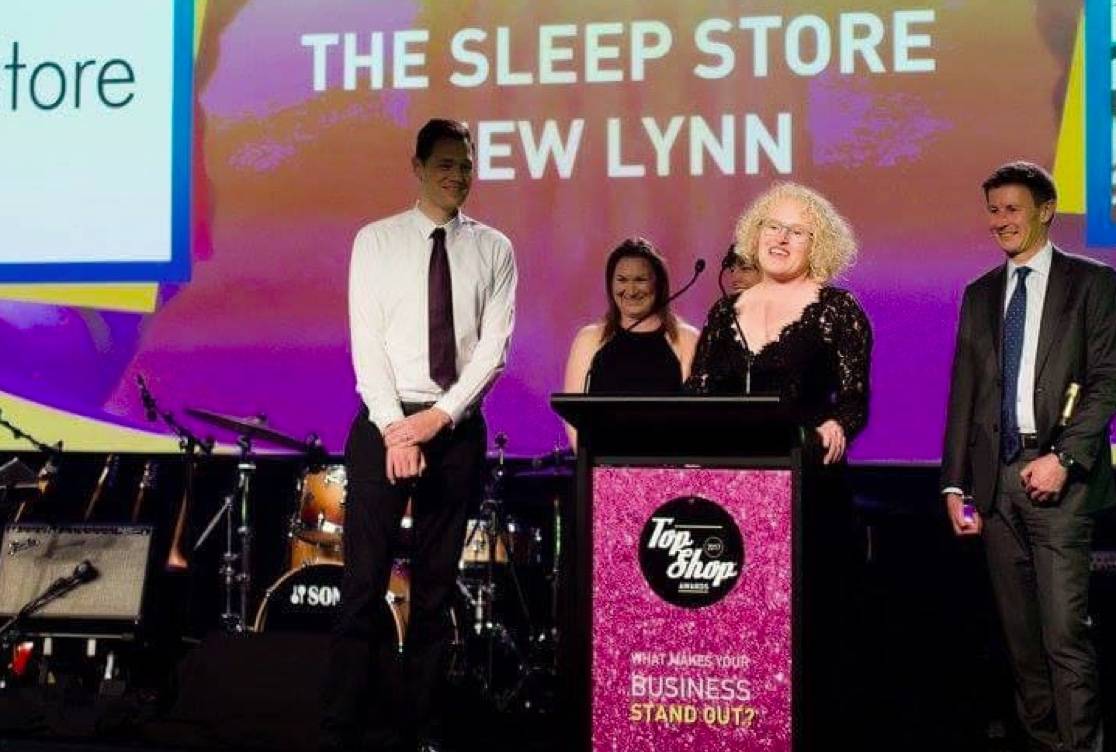 Working together in a collaborative session, The Sleep Store Auckland employees set out their own set of core values.
These are the values we aim to uphold every day:
Success

Awesomeness

Loving our customers

Being Ethical

Enabling sustainable communities

Working together

Valuing time

Being brave

Taking responsibility
We have been major supporters of of Oxfam for 7 years. We also participate in Oxfam events such as completing the Oxfam trail-walker event 5 times. We have raised and donated over $60,000 over this period and continue to support this important charity who are working in the Pacific region to reduce poverty and tackle climate breakdown.

We donate large amounts of new bedding from our collections and other related products to the local charity "Give a Kid a Blanket". We are also a local collection point for public donations to that charity. We have collected and donated over 1500 items for their program over the past 4 years, we were a foundation supporter and have really helped them grow this important grassroots program in Auckland.

We work closely with babywearing groups & sling libraries around New Zealand, which do important work supporting mothers and promoting a very practical tool to reduce post natal depression, help with parenting and build community. We've donated hundreds of carrier samples to groups in NZ and Australia, have sponsored peer supporter education and have also ensured our own babywearing team are highly trained.

Also in the babywearing space, we run our own community project, ReCarry. We recycle baby carriers that families have finished with and repair any customer returned carriers, saving these from landfill and gifting or loaning them to families who can't afford this essential parenting tool. We have distributed over 200 carriers across NZ, including some after emergencies such as the major flooding in Edgecombe in 2017.

We support Playcentre, the parent cooperative early childhood centres in NZ. We regularly donate items for fundraising as they receive the lowest support from government despite being not for profit and totally parent run.

We support Parents Centre NZ which offers classes at their centres throughout NZ to new and expectant parents. We have recently donated over 180 Beco baby carriers as well as large annual financial contribution as their partner. They are the main provider in New Zealand of child birth education.

We are supporters of our local 'Community Pantry' project, making regular food donations in this excellent grass roots, no questions asked food cupboard program.

We support local micro-businesses – helping smaller owner operators with product donations and more favourable wholesale account terms between their business and ours

We were the first retailer in New Zealand to become an accredited Living Wage Employer, currently $4 higher than the minimum wage. This is our starting salary for even school leavers, and staff are generally paid significantly more than the living wage, even for warehouse work.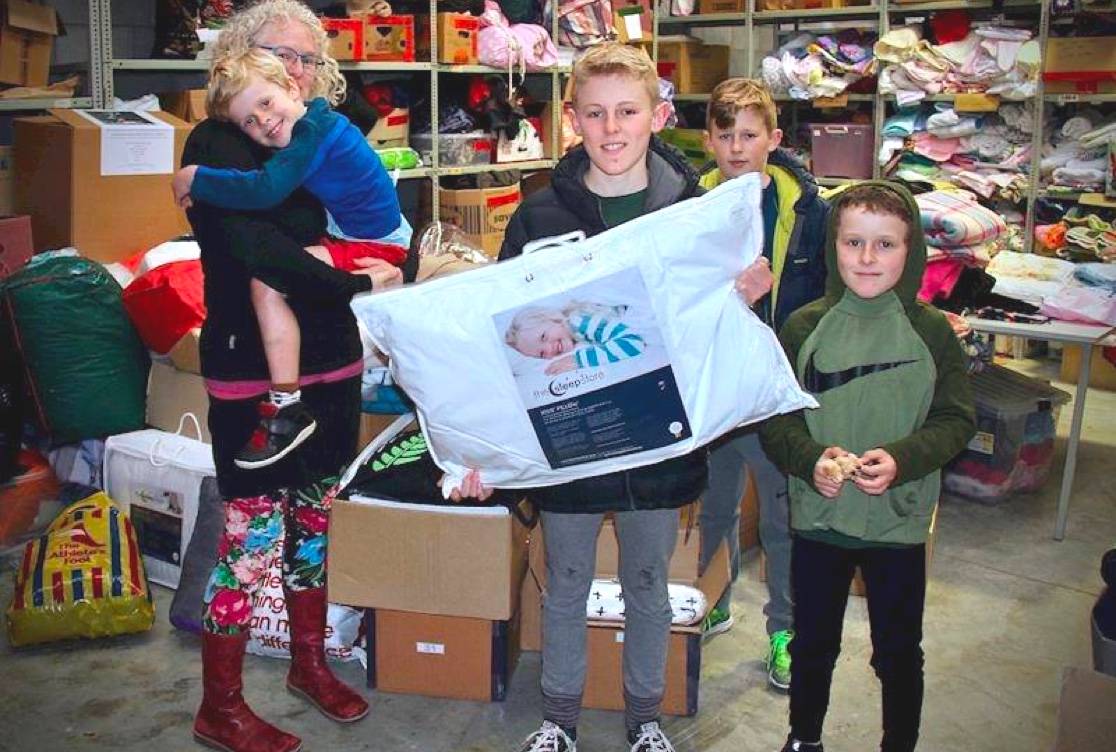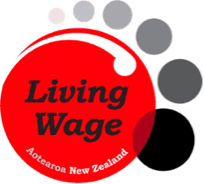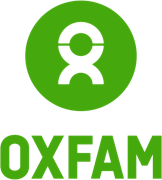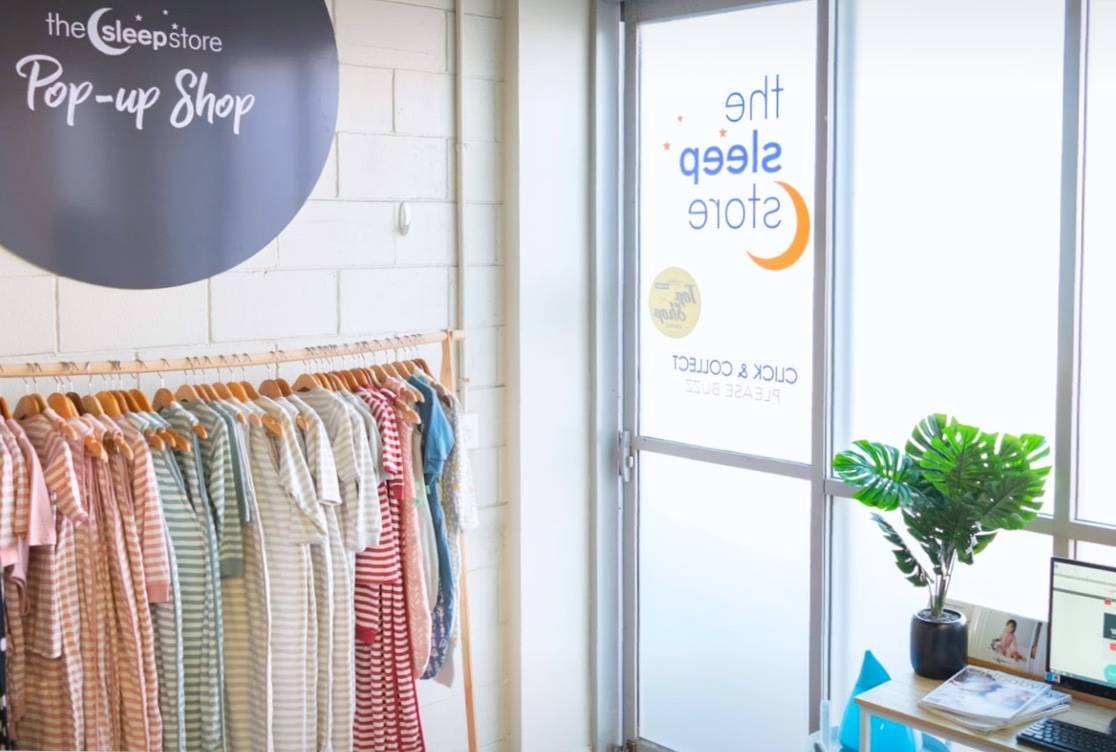 We Believe Expert Sleep Advice Should be Free
We are a staunch advocate for safe infant sleep. We submit recommendations to government agencies to improve the standards of infant sleep products. We also will not stock an infant product that we do not consider safe – even if local standards allow it to be sold in our market. Louise has been recently interviewed by several nationwide media outlets strongly advocating for stronger regulation of baby products, following the global recall of dangerous Fisher and Price sleepers. The Sleep Store is the only baby products retailer in NZ that advocates for stronger regulation and was a leader in implementing changes to the changes to the nightwear safety standard in recent years.

We fund a team of expertly trained sleep coaches to provide infant sleep advice free of charge through out Sleep Store support groups and free-to-access sleep advice online library. While sleep advice has become a big business, we believe parents should be able to access quality advice and support at no cost, and we are meeting a huge need in this area. We work to reduce the stress of parenting and our support helps parents dealing with post natal depression as well, as sleep deprivation is very closely linked to mental health.

We are supporters of Mental Health, including a significant donation this year for the mental health foundation of NZ. Our significant investment in providing free sleep advice is also an aspect of our work with supporting mental health.
THE SLEEP STORE aims to provide its much valued customers with quality products and value for money. In today's global market, this means sourcing products from a variety of international locations.
In recent years, concerns over poor working conditions and environmental degradation in developing countries and emerging markets have made it necessary for companies to implement specific social and environmental criteria for the production facilities from which they source products, enabling them to share common goals and build long-term partnerships.
In order to address these concerns, The Sleep Store is introducing its Ethical Sourcing Policy to ensure it is:
Sourcing its products in a responsible manner,

Working with its suppliers to improve and maintain global best practice social compliance and responsible sustainable environmental practices,

Providing clear guidance to its buying staff, and

Protecting its corporate reputation and its brand.
Our Commitment
The Sleep Store is committed to upholding human rights, fair working conditions and environmental protection.
In accordance with the expectations of our customers, the community, and the requirements of the Law, we endeavour to always operate responsibly and we expect the same from our suppliers.
Maintaining a reputation for the highest legal, moral and ethical standards in our dealings with our customers and other key stakeholders is critical for our ongoing success. Our Ethical Sourcing Policy has been developed to complement our core values of integrity, trust and acting responsibly.
We are committed to working with our suppliers to help improve their social compliance and environmental practices.
Expectations
We expect our suppliers to support the ethical standards set out in this Policy with regard to workplace safety, the environment, fair wages and employment conditions when producing and supplying products for The Sleep Store, no matter where they operate in the world. We recognise that full compliance with these criteria may take time for some suppliers, and we are committed to working with them to implement improvement plans and help them achieve compliance.
Social Compliance
Our suppliers must commit to complying with the following requirements which are drawn from the Ethical Trading Initiative (ETI) and International Labour Organisation (ILO) Conventions. These requirements represent minimum standards based on the principles of the United Nations Universal Declaration of Human Rights.
1. Bribery and Corruption
Suppliers shall not engage in acts of bribery and corruption and shall not falsify documents and records.
2. Labour Rights
Employment is freely chosen.

There is no forced or bonded labour.

Workers are not required to lodge deposits or their identity papers with their employer and are free to leave their employer after reasonable notice.
3. Freedom of association and the right to collective bargaining are respected
Workers, without distinction, have the right to join or form trade unions of their own choosing and to bargain collectively.

The employer adopts an open attitude towards the activities of trade unions or workers' representative committees and their organisational activities.

Workers' representatives are not discriminated against and have access to carry out their representative functions in the workplace.

Where the right to freedom of association and collective bargaining is restricted under Law, the employer facilitates, and does not hinder, the development of parallel means for independent and free association and bargaining, such as worker representative committees.

There should be a formal policy for raising and handling of grievances including nomination of a specific senior member of management to handle these cases.
4. Working Conditions
A safe and hygienic working environment shall be provided, bearing in mind the prevailing knowledge of the industry and of any specific hazards, including hazardous chemicals. Adequate steps shall be taken to prevent accidents and injury to health in the working environment.

Workers shall receive regular and recorded health and safety training, and such training shall be repeated for new or reassigned workers.

Access to clean toilet facilities and to clean and drinkable water and, if appropriate, sanitary facilities for food storage shall be provided.

Accommodation, where provided, shall be clean, safe, and meet the basic needs of the workers.

Suppliers will ensure that personal protective equipment is available and workers are trained in its use. Safeguards on machinery must meet or exceed local laws.

Suppliers shall assign responsibility for health and safety to a senior management representative who has appropriate certification.
5. Child Labour
The Sleep Store supports ILO Convention 138 with regard to the appropriate age of workers and will not work with suppliers who use child labour.
6. Living Wages
Wages and benefits paid for a standard working week must meet, at a minimum, national or local legal standards or industry benchmark standards, whichever is higher. In any event wages should always be enough to meet basic needs and to provide some discretionary income building to a fair wage and ultimately a Living Wage.

All workers shall be provided with written and understandable information about their employment conditions in respect to wages before they enter employment and about the particulars of their wages for the pay period concerned each time that they are paid.

Deductions from wages as a disciplinary measure or any deductions from wages not provided for by Law shall not occur without the express permission of the worker concerned. All disciplinary measures should be recorded
7. Working Hours
Working hours must comply with any Law and benchmark industry standards, whichever affords greater protection.

In any event, workers shall not on a regular basis be required to work in excess of 48 hours per week and shall be provided with at least one day off for every 7 day period on average. Overtime shall be voluntary, shall not be excessive, shall not be demanded on a regular basis and shall always be compensated at a premium rate.
8. Discrimination
There is to be no discrimination in hiring, compensation, access to training, promotion, termination or retirement based on race, caste, national origin, religion, age, disability, gender, marital status, sexual orientation, union membership or political affiliation.
9. Regular Employment
To every extent possible work performed must be on the basis of a recognised employment relationship, established through national law and practice.

Obligations to employees under labour or social security laws and regulations arising from the regular employment relationship shall not be avoided through the use of labour- only contracting, sub-contracting, or home-working arrangements, or through apprenticeship schemes where there is no real intent to impart skills or provide regular employment, nor shall any such obligations be avoided through the excessive use of fixed-term contracts of employment.
10. Harsh or Inhumane Treatment
Physical abuse or discipline, the threat of physical abuse, sexual or other harassment and verbal abuse or other forms of intimidation shall be prohibited.
11. Entitlement to Work and Immigration
Only workers with a legal right to work shall be employed or used by the supplier.

All workers, including employment agency staff must be validated by the supplier for their legal right to work by reviewing original documentation.

The supplier shall implement processes to enable adequate control over agencies with regards to the above points and related legislation.
12. Sub-Contracting and Home Working
There shall be no sub-contracting unless previously agreed with The Sleep Store.

Suppliers must have adequate processes in place for properly managing sub-contracting or home workers to ensure sub-contractors do not abuse, exploit or provide unsafe working conditions for their employees.
13. Environmental Compliance
The facility shall comply with national and local environmental laws and regulations in line with ISO20400 guidelines

The facility shall dispose of its production waste in accordance with local environmental laws and regulations.

The facility must conduct risk assessment, identify and document its key environmental impacts and implement controls to minimise its impact on the environment with respect to solid waste disposal, hazardous chemicals storage and management, carbon emissions, waste water management, water treatment practices at its own wet processing facilities or those of its sub contractors, minimisation of dyestuff usage in fabric and print processes and recycling management of fabric wastage.

The facility must apply industry best-practice water and energy saving management practices and regularly train and re-train its workers in the application of these processes.
Compliance with the Policy
The Sleep Store expects its suppliers to comply with all aspects of this Policy, and will be extending its coverage of audited facilities and compliance monitoring processes to include these standards.
The Sleep Store is committed to working in partnership with its suppliers to help achieve compliance with this Policy. In the event where any supplier is unwilling or unable to demonstrate continuous improvement towards full compliance with our standards, the trading agreement between The Sleep Store and the supplier is subject to termination.